Future Proof Your Memories with 4K
Shoot 4K video footage which contains about 4 times more information than Full HD (3840 x 2160 pixels vs. 1920 x 1080) video footage,
and record more of the amazing qualities that bring images to vibrant life.
Balanced Optical Steady Shot
Our advanced image stabilisation reduces camera shake to stabilise video shooting throughout the whole wide-angle-to-telephoto zoom range.
For extreme shake, 5-axis Intelligent Active mode compensates for vibration in 5 different directions, so you can shoot steady high-quality movies even while running.
Fast Intelligent Auto Focus
Pioneered in the ground-breaking Alpha A7 series of cameras, Fast Intelligent AF utilizes a better system that reduces lens movement,intelligently predicts the appropriate AF range, and accelerates lens drive with an effective new motor, resulting in ultra-fast focus response that lets you record more short lived moments with confidence.
New ExmorR Video-Specialised Sensor
A brand new image sensor, with pixels around 1.6 times bigger, provides remarkable level of sensitivity for recording stunning quality images throughout the complete range of shooting conditions, from dark night shots to full daylight.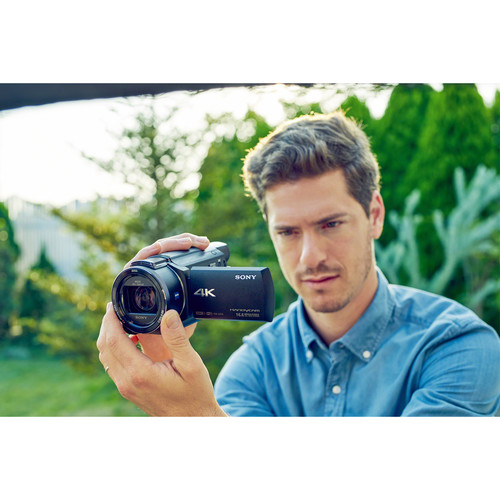 Delivery Service & Delivery Time
All Camera Store orders are sent to you either by TOLL Priority or Startrack.
Shipping and handling charges are $16, this service is a track and trace service with a signature that is required upon delivery.
We aim to deliver to all states metropolitan areas within 1-2 working days and all states rural areas within 3-5 working days on all items instock at time of order.
Delivery Requirements
We ONLY send to listed addresses that can be found in the Australian White Pages.
Alternatively if you have a silent number or do not appear in the white pages, a work address will be acceptable. The address must be listed or have a current up to date website so we can confirm details.
We also have other payment options you can use such as B-Pay or EFT. If you use either of these payment methods we will send to any address such as PO boxes if that suits your needs.
Identification Verification & Security Process Prior To Delivery Of Your Order
For all orders over $200, contact will be made via email or phone direct to the customer to obtain security information to help process the final stages of processing and shipping an order.
We reserve the right to confirm payment information and make cross reference with ID information supplied by the customer.
To avoid possible fraud outcomes we reserve the right to obtain further information from our customers. Our customers may be asked to email us a copy of their photo ID or a copy of their latest utility bill. Every effort will be made to process security checks on good business time.
All orders under $200 will be processed and shipped within 24 hours with no security ID check imposed on the customer.
All orders of any amount being paid via EFT and BPAY payments will be processed and shipped within 24 hours with no security ID check imposed on the customer.
Issues With Delivery Or Goods Damaged In Transit
Where there is an issue with delivery or the condition of goods delivered, the Camera Store must be notified of any such issues as soon as the customer receives the parcel.
Items are always delivered within 7-10 business days to even the most remote locations.
We therefore will not be made liable for non-delivery or damaged items if we are notified outside of 14 days from the day of the verbal phone confirmation and despatch.
If you have any questions regarding our delivery please do not hesitate in contacting us.
Free Call: 1800 155 067
Mobile: 08 8224 0057
Email: sales@camerastore.com.au
Pricing, Exchanges, Refunds & Returns
At Camera Store we aim to always display accurate and correct pricing on our website. If a price is found to be incorrect at the time of order processing, we will immediately notify you of the correct price or offer an immediate refund. We have the right to not ship an item that has been displayed at an incorrect price.
All orders are final, we generally do not exchange, refund or return an item once it has been purchased but will consider it on a case by case basis.
To see if you qualify, please call us on Freecall 1800 155 067 to speak to a Camera Store consultant.

Restocking Fee
To request a refund it must be declared to a Camera Store consultant within 4 days of delivery, this will be reviewed and if approved a restocking fee will apply.
Restocking Fee: $20 for orders under $1000 or 2% of the return item value for items over $1001.
Any freight and insurance costs to return the item to us are also at your expense. This includes the liability for any lost freight so we suggest using a courier with signature or registered mail.
Exchange & Return Requirements
All exchanged/returned products must be in brand new, mint condition.
Items must be in the original, undamaged manufacturer's packaging with all packaging materials, including instruction booklets, packing inserts, plastic bags, and the blank warranty cards.
The manufacturer's labelled packaging must be enclosed within a new shipping carton.
Please note that the warranty card must not be filled out.
Shipping and Handling Fees if applicable, are non-refundable.
Refunds
All approved refunds will be processed within 7 days.